E! Introduces the Ladies of The Real L Word
For those of you still suffering withdrawals from the end of the groundbreaking guilty please,
The L Word
, Showtime borrows from
Real Housewives
to bring you…
The Real L World
.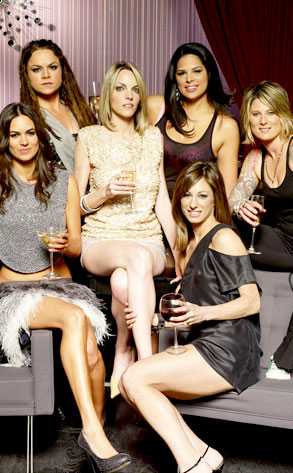 However, for those of us who wanted more reality from the first incarnation of
The L Word
, it remains to be seen if Showtime will deliver. Looks can be deceiving, and lesbian "reality" in L.A. is surely different than the lived reality of queer women in other cities.
E! provides a sneak peak at the cast
of the reality series set to debut at 10 p.m. June 20. Described as "a rare, fly-on-the-wall look into the lives of attractive and successful L.A. lesbians,"
The Real L Word
stars (clockwise from far left):
•
Tracy
, 29: A film and television development exec new to the lesbian scene, whose mother is having a hard time dealing with her sexuality.
•
Whitney
,
27: A Hollywood special effects artist is a self-professed terrible girlfriend.
•
Nikki
, 37: A rep/manager/producer/industry bigwig who publicly came out on
The Oprah Winfrey Show
and is now engaged and planning her wedding to
Real L Word
costar Jill.
•
Rose
, 35: A real estate advisor who wants to settle down, but can't seem to shake her old habits, who was apparently the inspiration for the character Papi in the original series.
•
Mikey
, 34: Founder of The Gallery Los Angeles and producer of LA Fashion Weekend, she's also engaged and trying to plan a wedding of her own.
•
Jill
, 33: A writer and "Jersey girl next door," she is engaged to costar Nikki and has the support of her family.
We're definitely curious to see what kind of picture is painted by the "real" lesbians selected for the new series. Will they parallel the characters in the original series? Fall into classic lesbian stereotypes? Only time will tell.